Fall Senior night 2022 is in the books. Congrats to all the Seniors, their families and coaches that have brought them to this moment. You are a talented class of athletes that have made the Black and Gold family extremely proud! Wishing you all the best the rest of the year!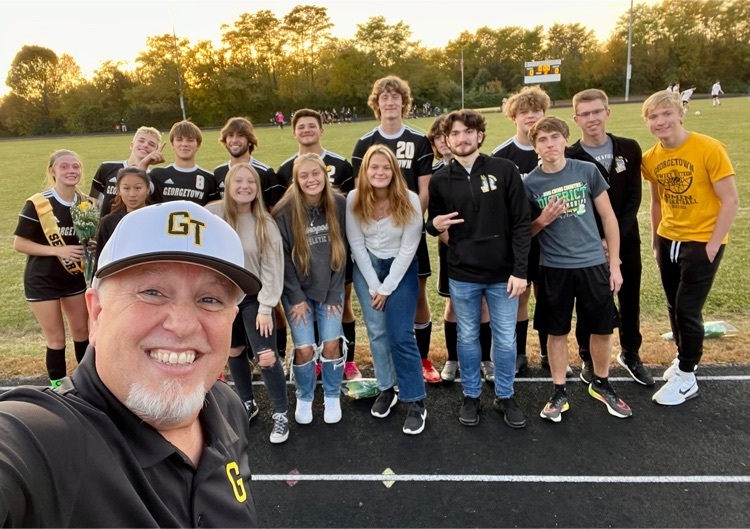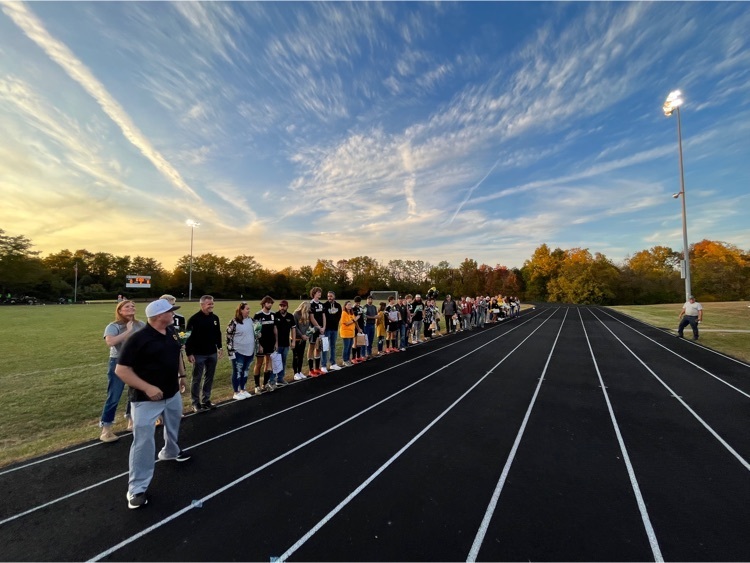 Join us tonight at Vern Hawkins Field for our Senior Night. Girls Soccer starts at 5:00, boys at 7:00. Seniors will be honored between games. Hope to see you out for our last home game of the regular season- HOWEVER we will be playing a round 1 OHSAA home game next Monday at 7pm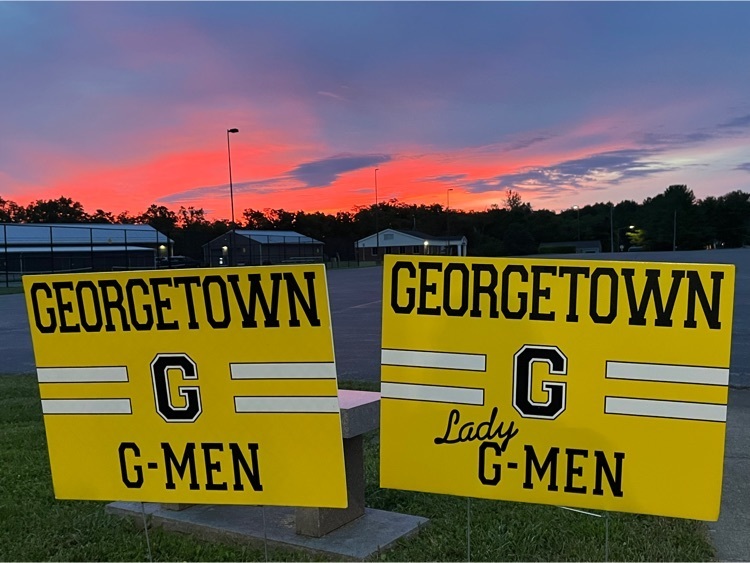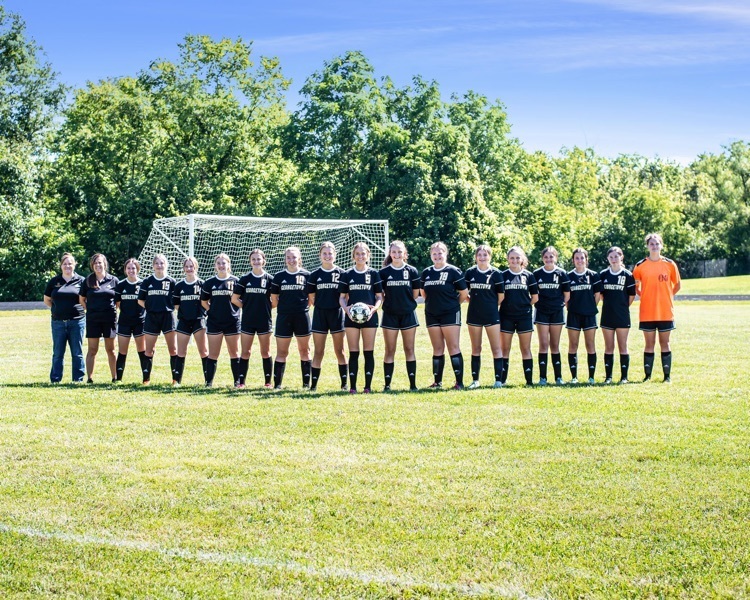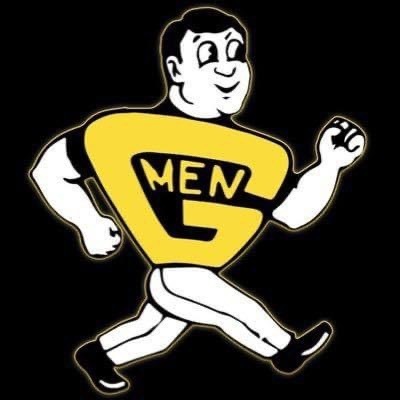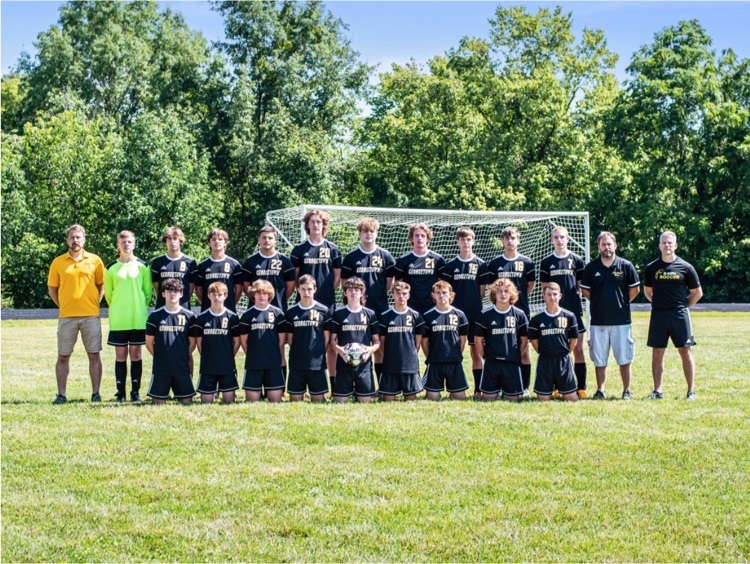 We close out Fall Sports this week. Hosting 7/8th V-ball Tourney. Senior Night Tues @ Soccer vs Felicity. Then a Game @ Williamsburg for V-Ball & Soccer-ONLINE TIX ONLY @ BURG- The SBAAC X-Country Tourney @ Wilmington College & our Academic Team has an Invitational @ Indian Hill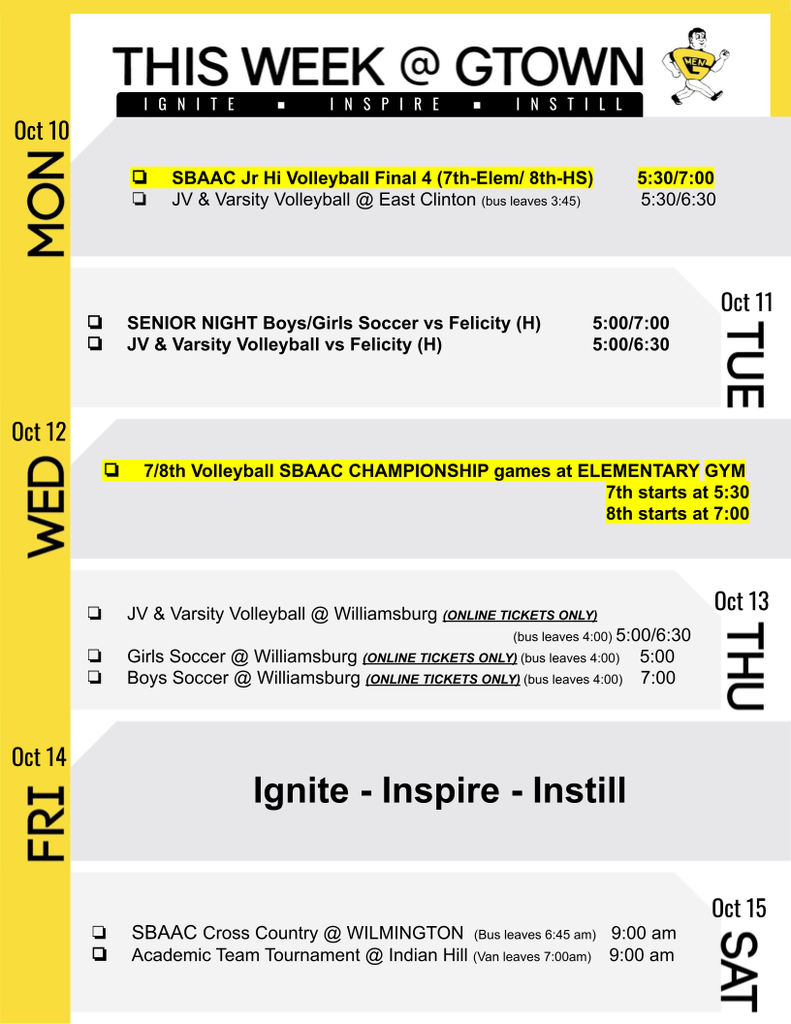 We hosted the 1st rd of the National SBAAC Tourney today. The day was filled w/ good volleyball from the Jr Hi teams in the League. The champion will be determined on Wed. However, the day was won by all the great servant minded students & adults that made they day spectacular.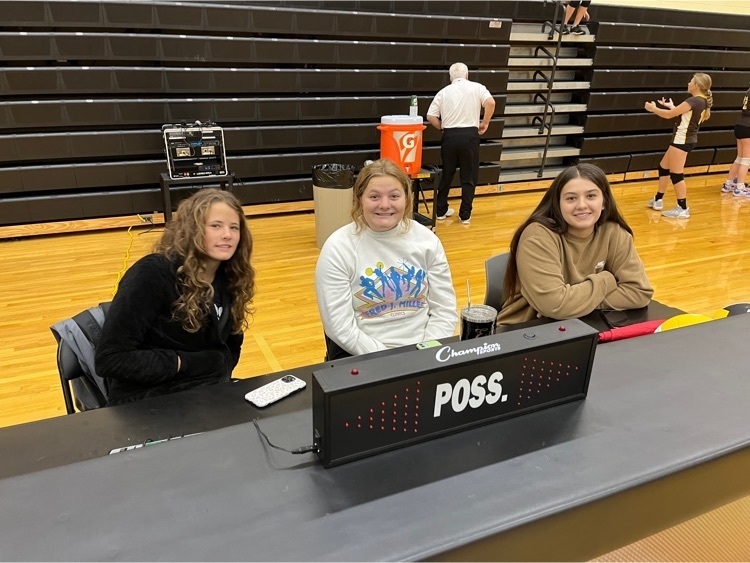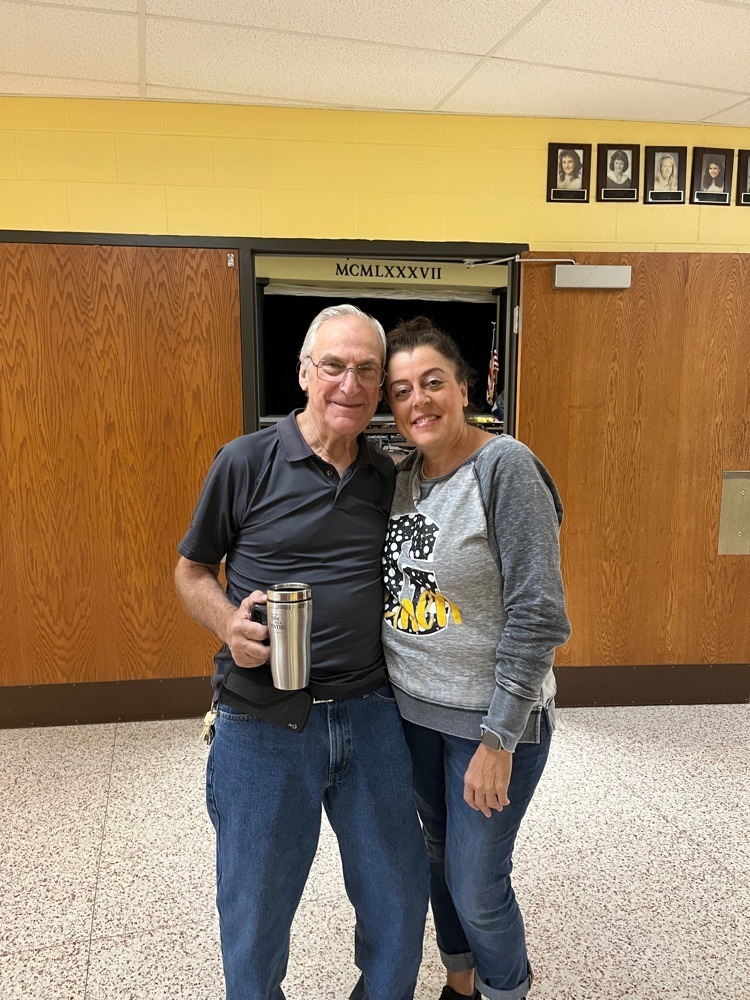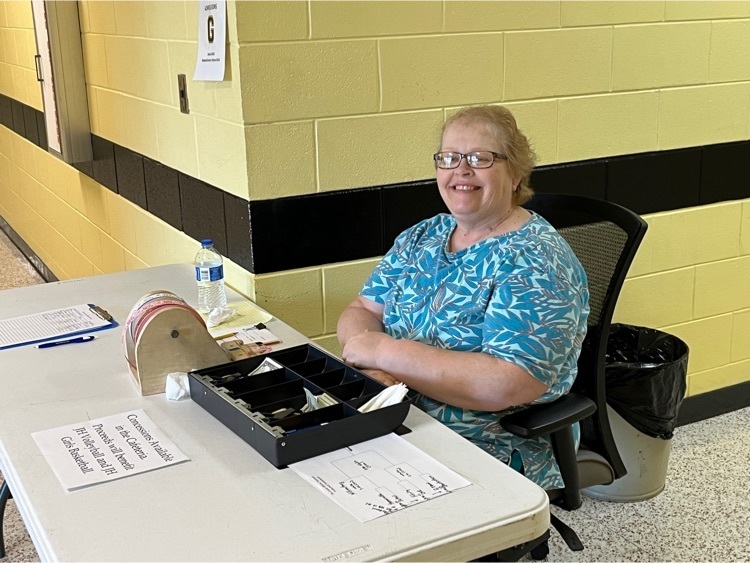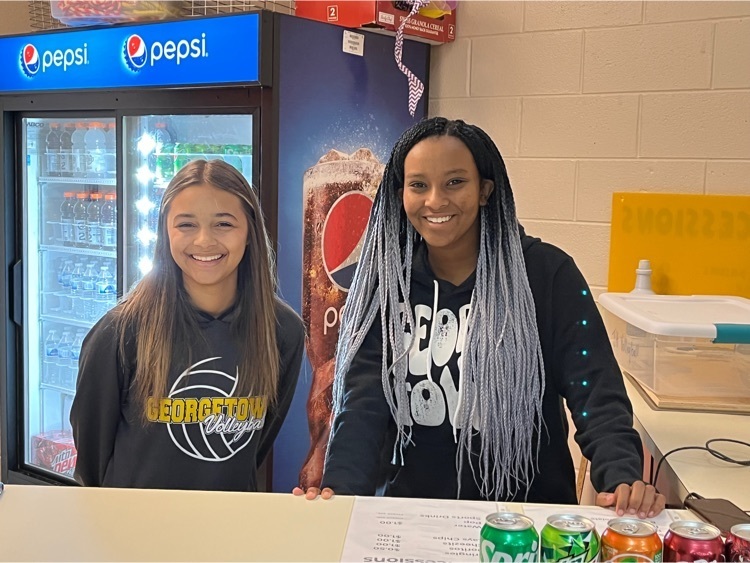 The Georgetown Lady G-Men are about to take to court for the first round of the OHSAA tournament. Good luck ladies. #IgniteInspireInstill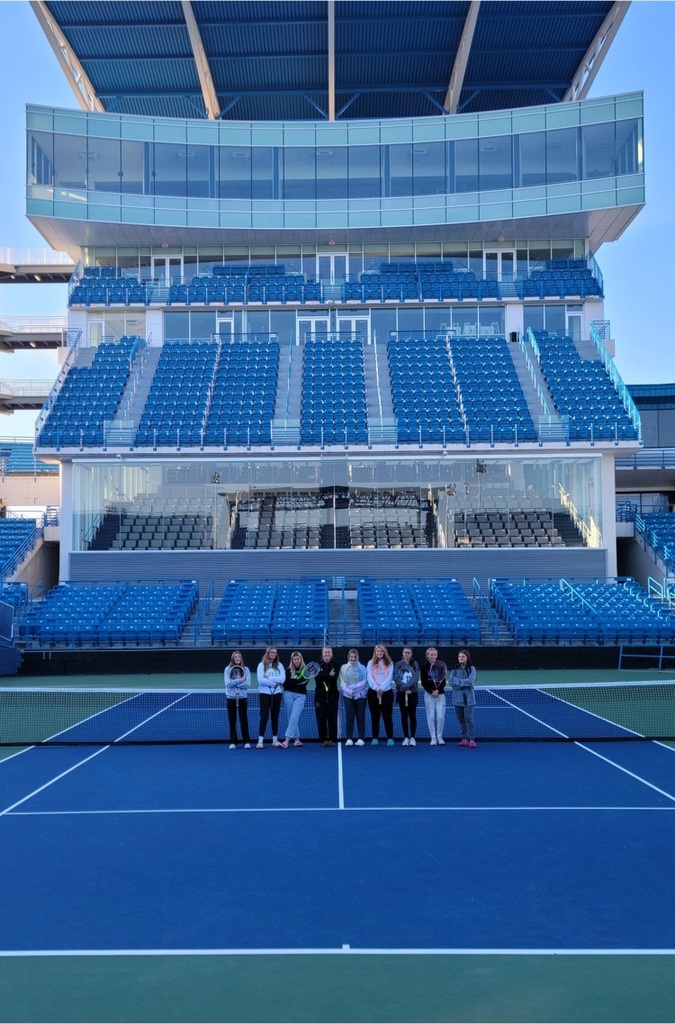 Come out tonight at 6:30 (JV-5:00) to support and celebrate our Lady G-Men Volleyball Teams and the 3 Seniors (Emily, Heidi and Anistin) who will be honored and celebrated for their hard work and dedication to the Black & Gold. #IgniteInspireInstill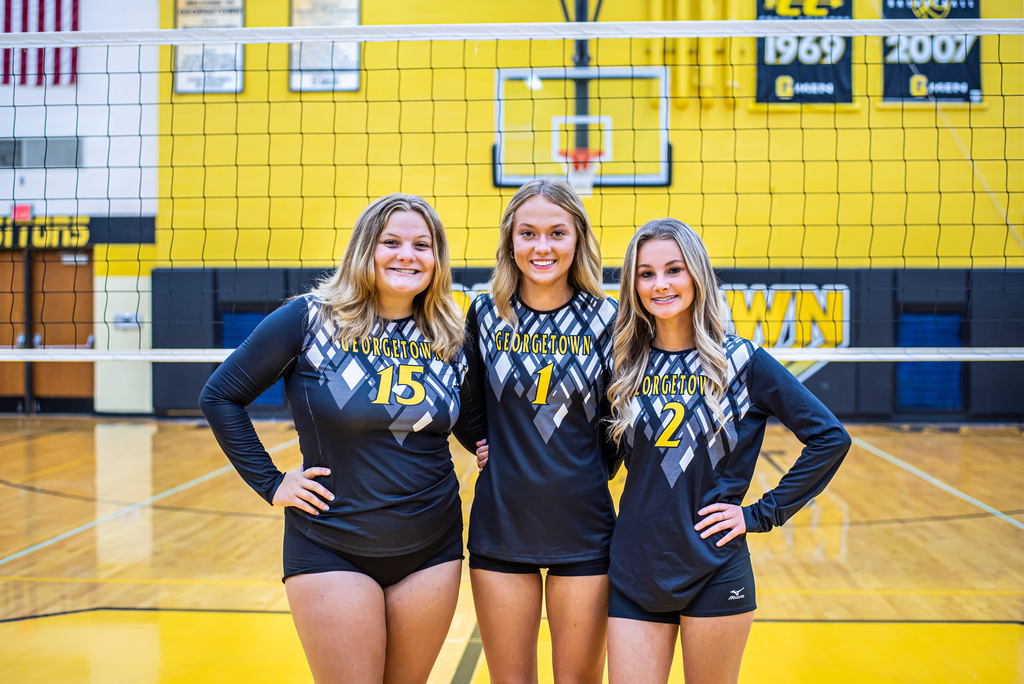 Big Week @ Gtown, MOST games are Home. Girls Tennis-Tues @ ATP for Sectionals. Volleyball Sr Night Tues & Pink Out Thurs. Soccer Home- Wed, Thurs & Sat, We host 7/8th Gr SBAAC National Volleyball Tourney Sat and Athletic Boosters have their annual Golf Fundraiser Sat @ Buttermilk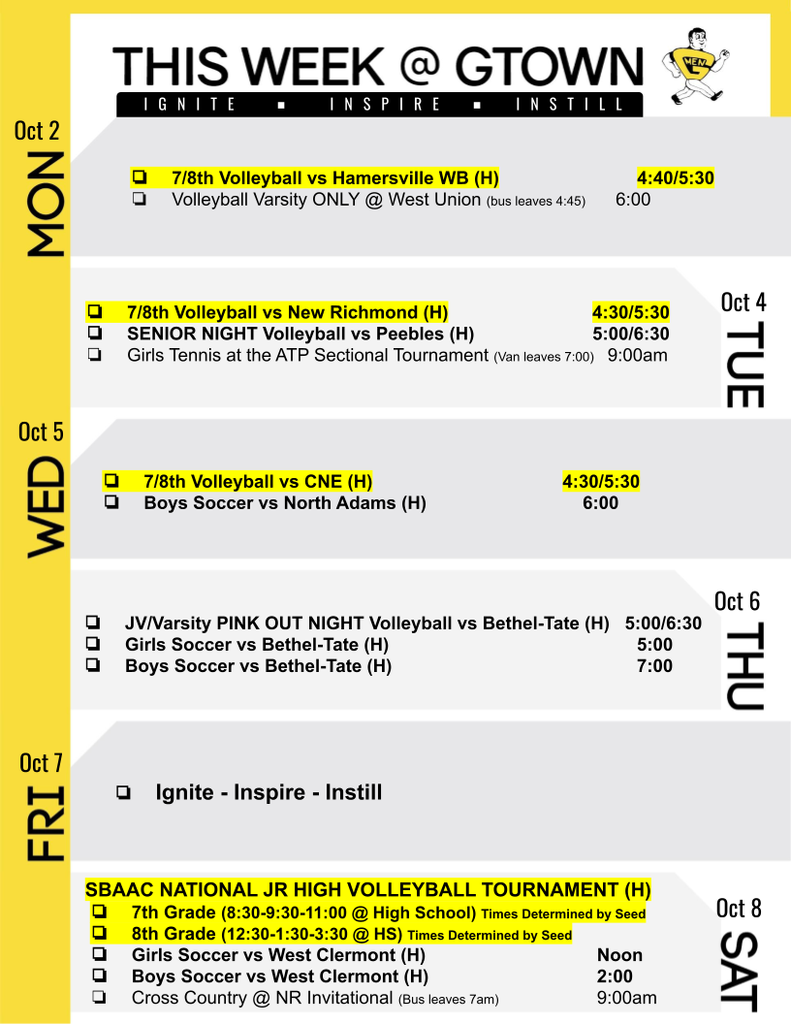 This Week in Gtown Fair Edition: 2 events to highlight; Tues.- Peyton Schadle travels to Walden Ponds for the Cincinnati Golf Sectionals. HS Boys & Girls Cross Country go to Centerville Sat Night Oct 1st to run Under the Lights. Good Luck Peyton, Runners & FFA Students @ the Fair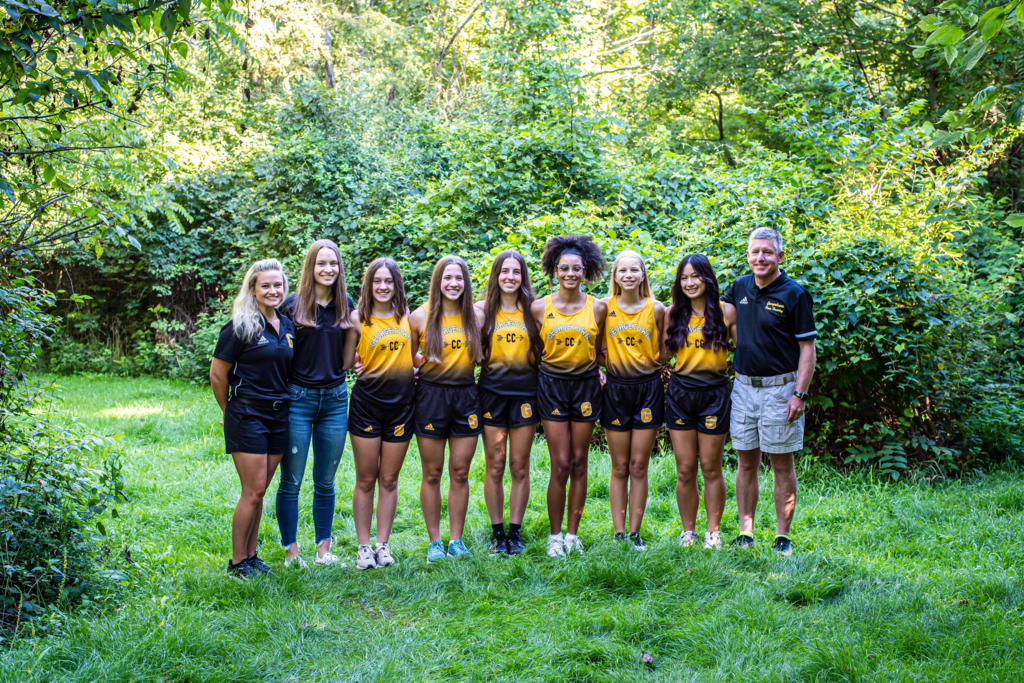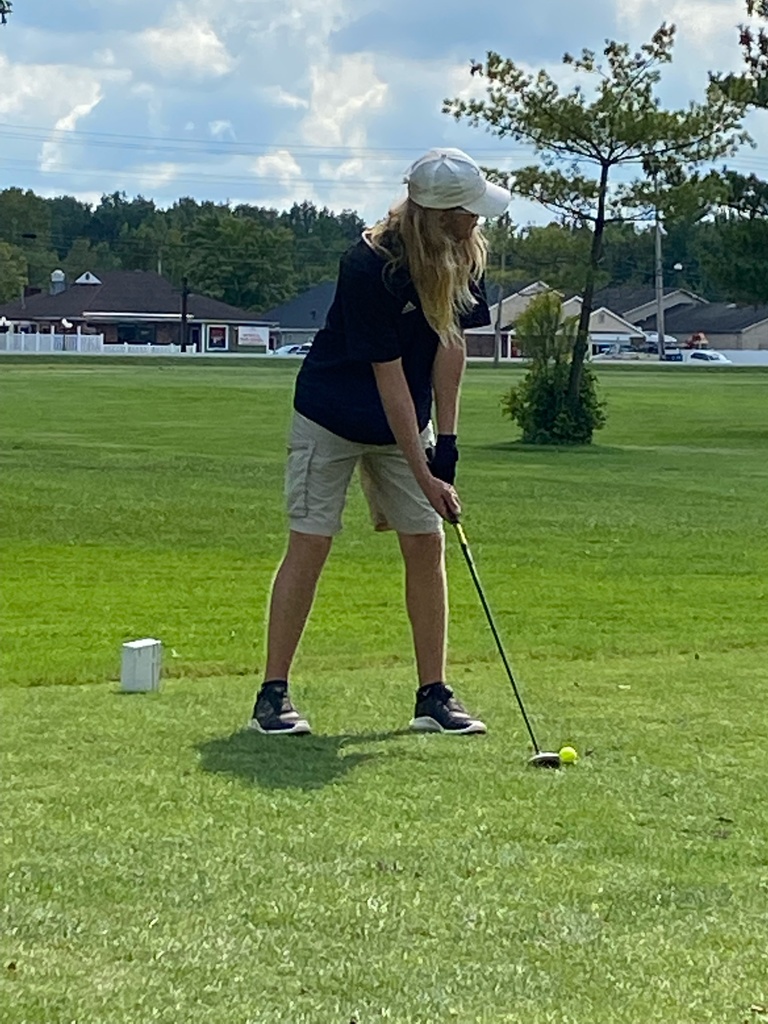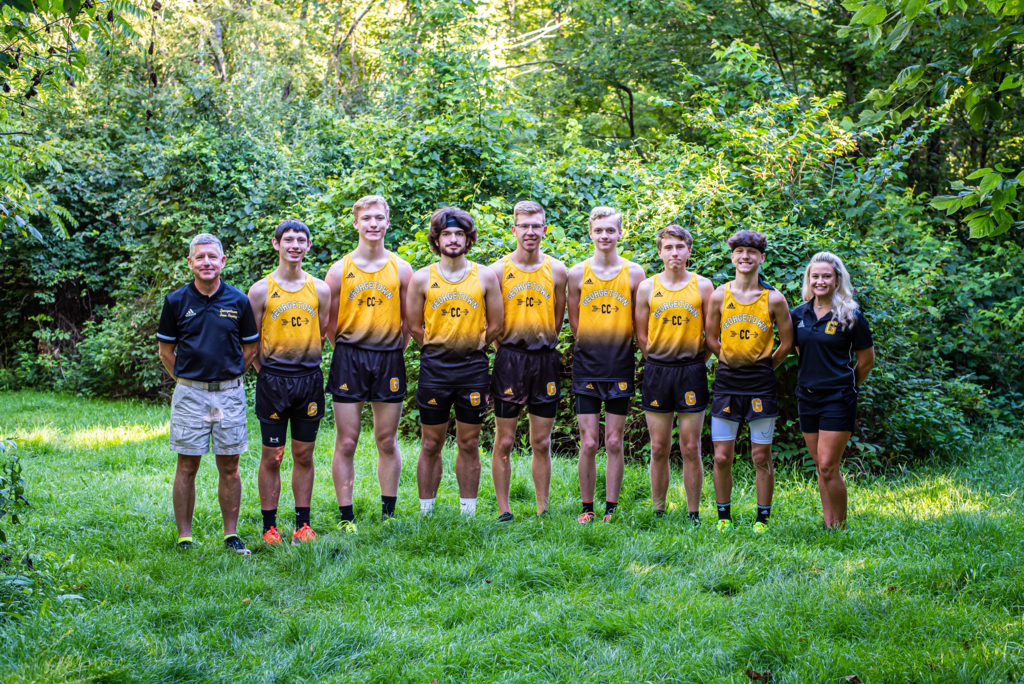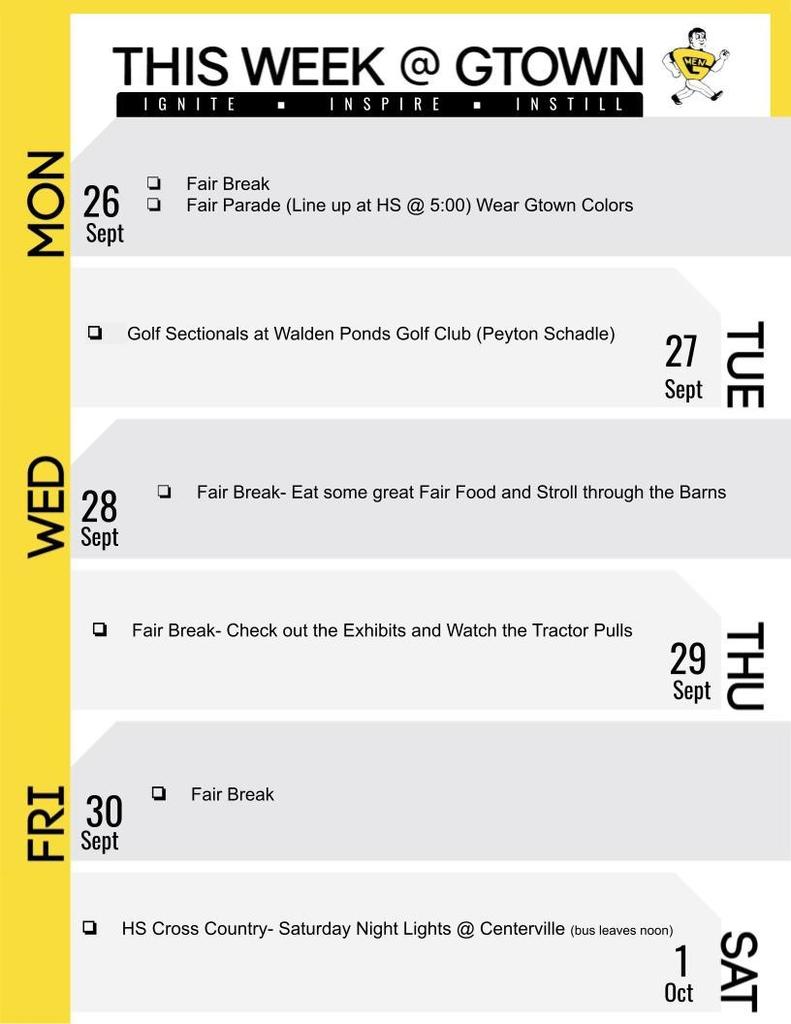 This Saturday's (9/24/22) Boys Soccer game at Home vs CHCA has been canceled.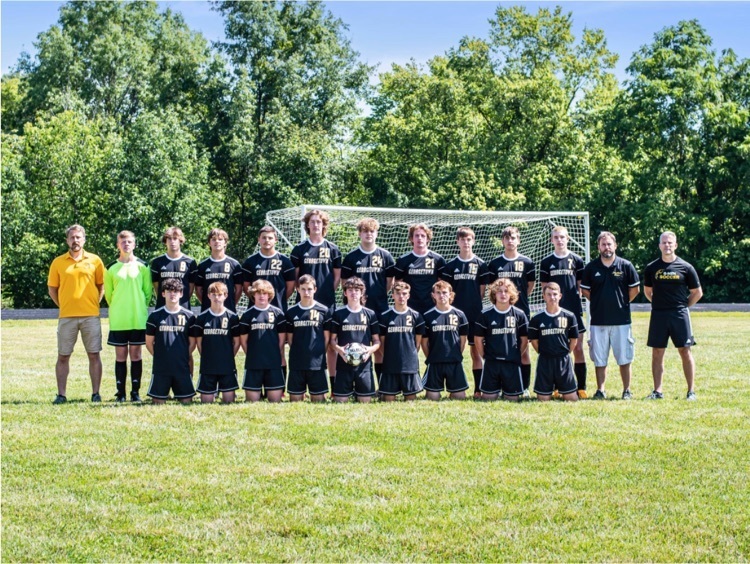 Congrats to Gtown's very own Senior- Peyton Schadle for making 1st Team All Star in our National Division of the SBAAC. Peyton has had a great season and shot his personal best in the SBAAC Tournament. Congrats Coach Tolle and Peyton for a great season on the links.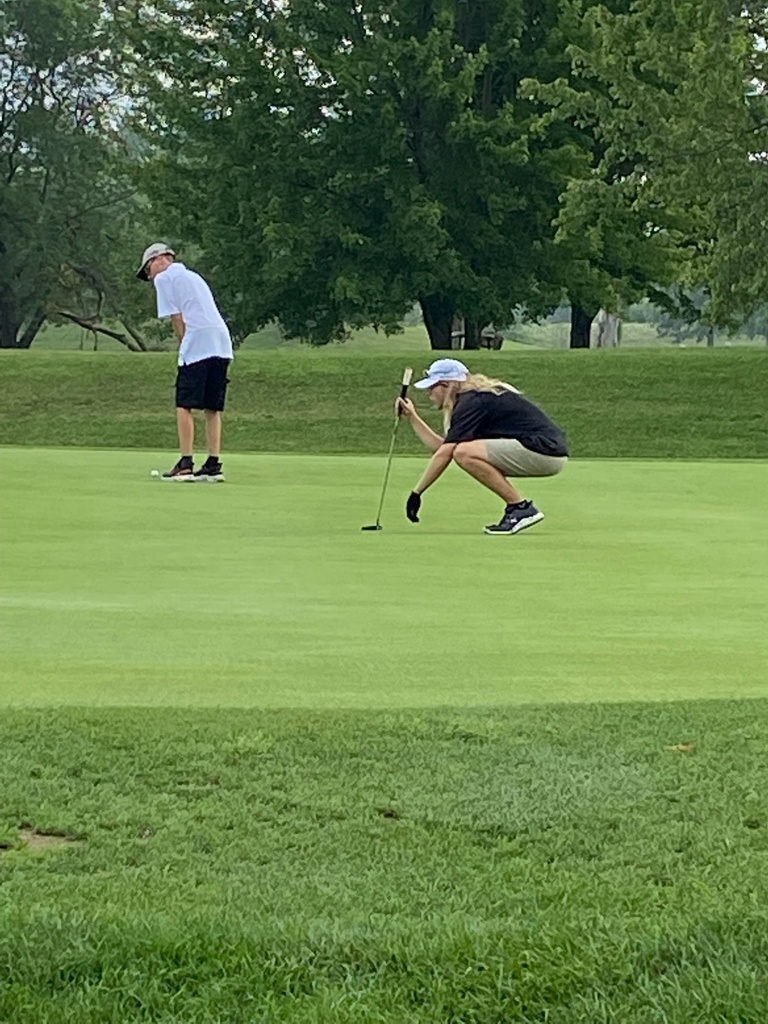 Special events to highlight this week: Mon- Students wearing Black & Gold to Volleyball gets in FREE Tues- 4:00 is Senior Night for our 1st Place Girls Tennis Team Tues- 5:00 is SAY SOCCER Night @ our Girls/Boys Soccer Game Thurs- Girls Tennis is in the SBAAC Tourney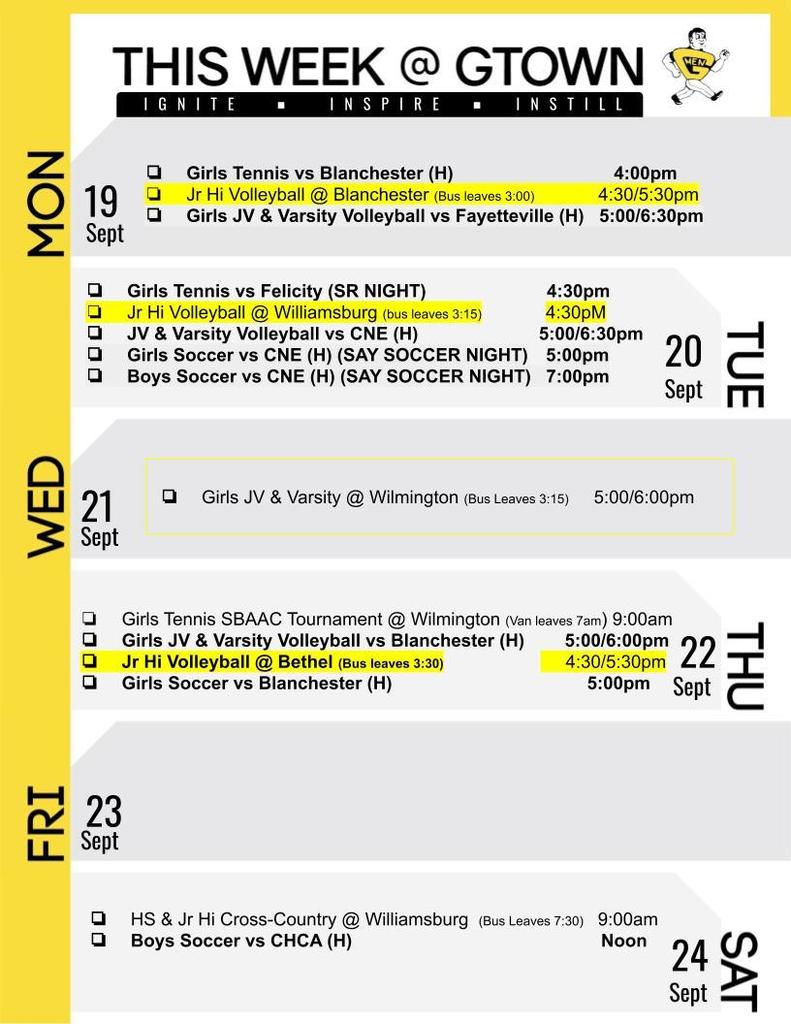 Attention to any 9-12 grade Boys or Girls interested in Bowling for our JV or Varsity Team this year. Coach Winterod will be having an Open Bowl on Tuesday September 20 from 4:00-6:00 at Community Lanes. If you have your own equipment you can bring it.
Time Change for this Thursday's Soccer match between 2 teams ranked in the Top 10 in the City & Top 15 in OHIO. Our Boys G-Men Soccer team faces a strong Mariemont team this Thurs. 5:30 at HOME. Come out & support the Black & Gold and bring the Noise! #IgniteInspireInstill
Come out and cheer for the Black & Gold. These are the places and times that you can make that happen.
CANCELLATION NOTICE: Tonight's HOME Varsity Boys Soccer game vs CHCA (9/6/22 @ 6:00pm) has been cancelled due to the field conditions. We attempted to find other locations but could not make it happen.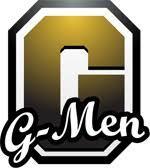 We have a Huge Week at GEVSD this week! Our Cross-Country Team is Hosting the Vern Hawkins Invitational Meet Saturday Sept. 10, as well as all our other teams in action. Put on some Black and Gold and Come out and support our Student Athletes.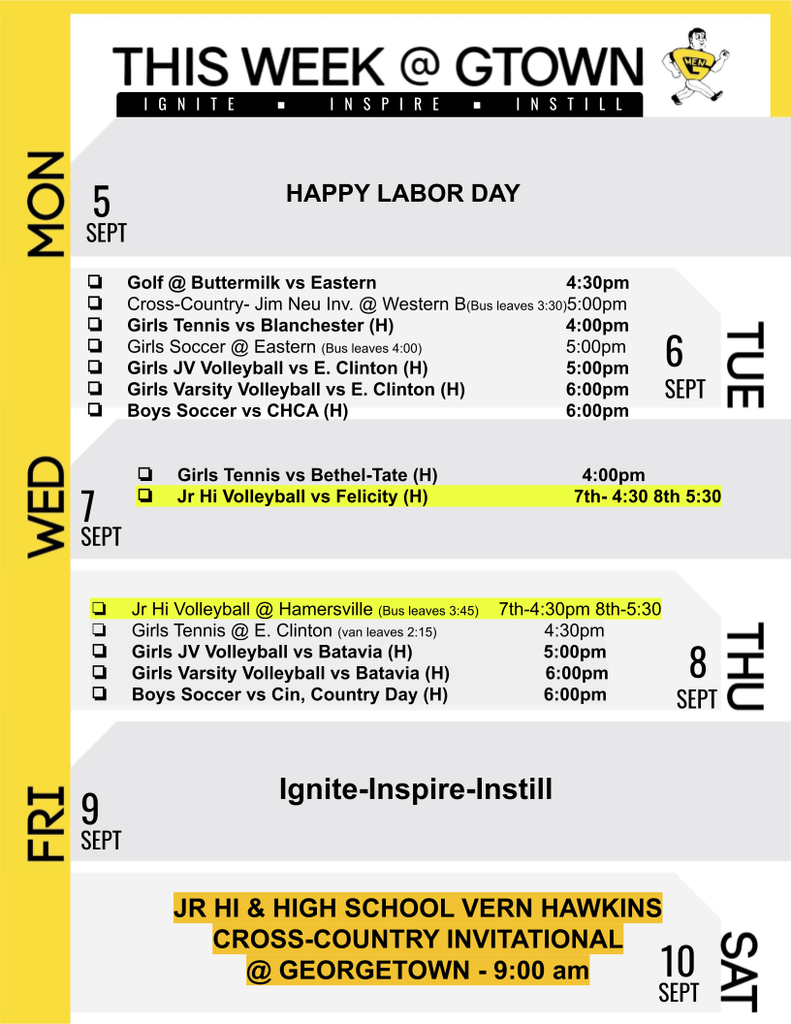 Congratulations to Jacob Faught! Brown County Athlete of the Week! 👏 #IgniteInspireInstill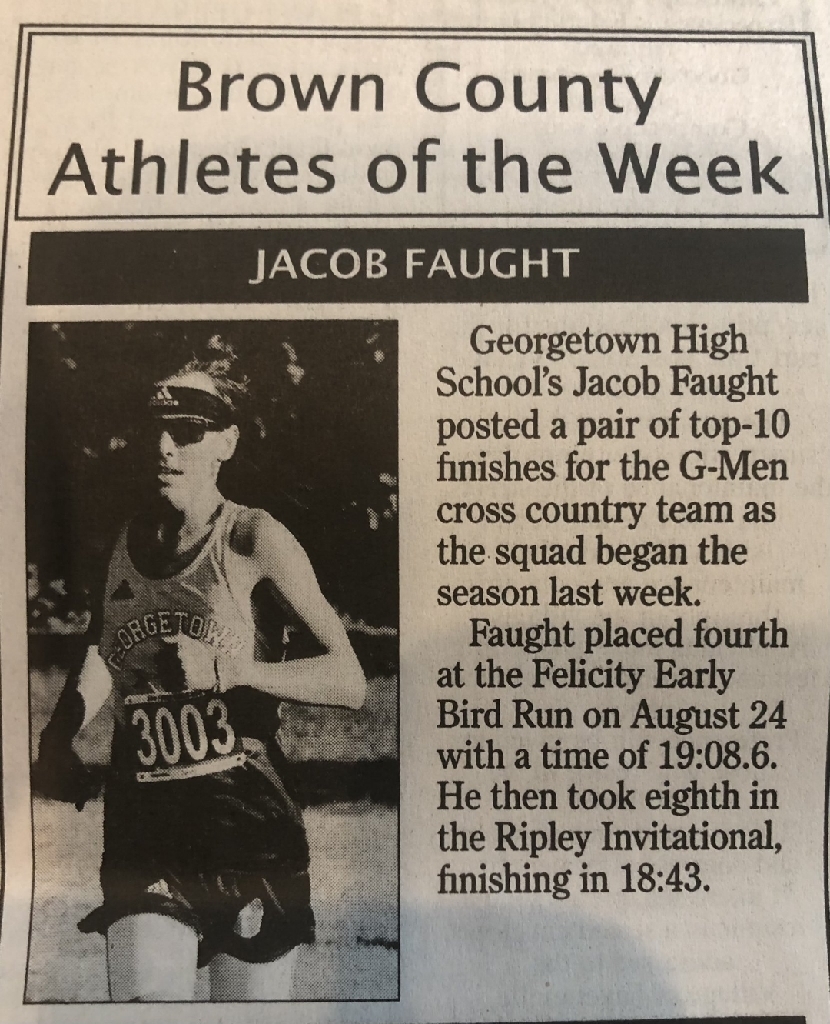 Attention: Tomorrow's Varsity and JV Volleyball and Soccer Games are at Bethel. Bethel is an ONLINE TICKET ONLY venue. The link to purchase your tickets is available here:
https://spicket.events/betheltate
Let's Go G-Men and Lady G-Men- Beat the Tigers!
Correction: There was initially a Home Girls Soccer Game scheduled vs East Clinton tonight. However E. Clinton doesn't have a Girls team this year. Most calendars were corrected earlier this month, but it was still on the school website. Its been corrected-Sorry for any confusion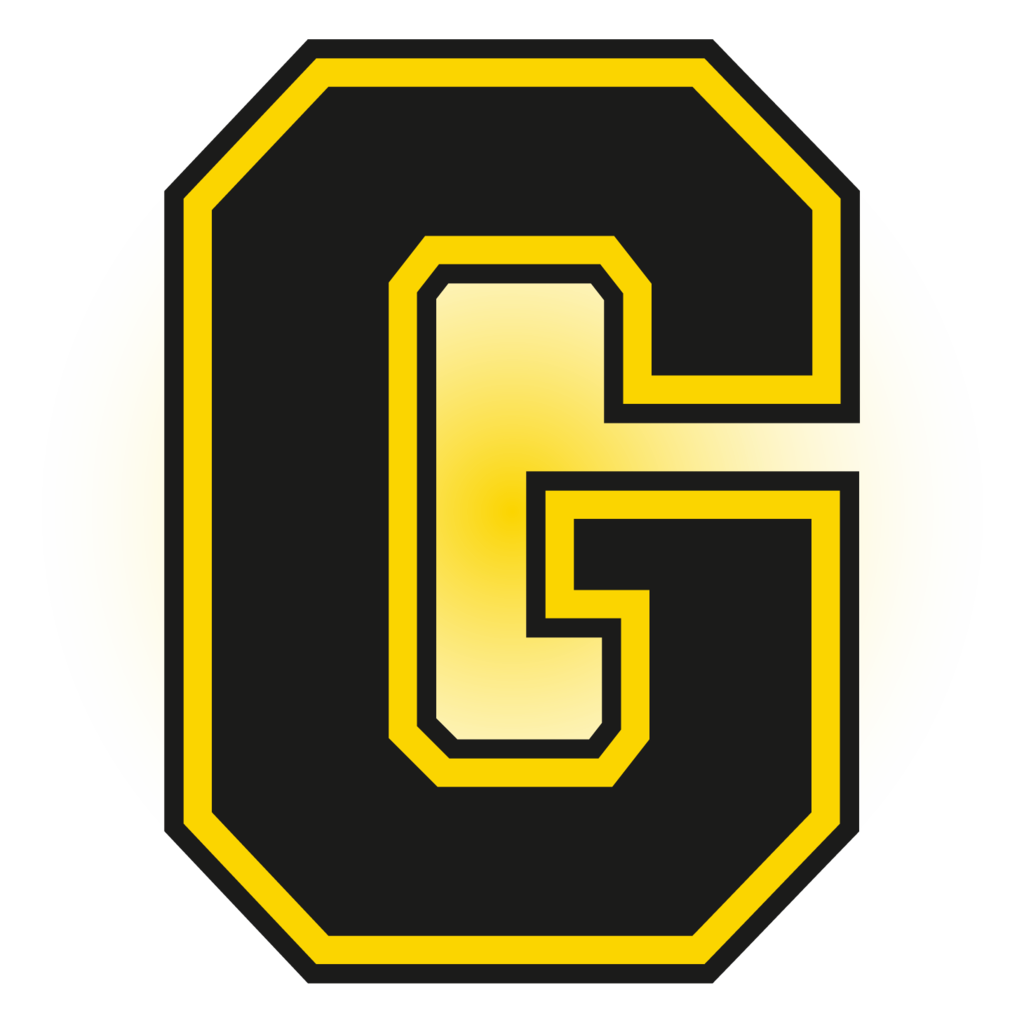 This Week in Georgetown Athletics- August 29-September 3 Come out and support the Black & Gold!