Home Game Tonight vs Blanchester. There will also be a performance of our Cheer Clinic at Halftime of the JV game. So come out and support the Black & Gold. JV Boys start at 6:00 (Cheer Performance at Half) Then Varsity Boys start at 7:30.

Here at Georgetown we have a Strict Dress Code, especially on Bengal Dress up Day. Any offensive and inappropriate clothing is punishable with ISR (In school suspension) As our Technology Coordinator Daniel Broadwell found out, there is Zero Tolerance! WHO DEY Mr. Broadwell!

Congrats to our Lady G-Men for winning their 5th SBAAC league game in a row. They fought off a resilient Bethel Lady Tiger team. Keep it rolling Coach Wells, Oliver, Gardner and Ladies!!! #igniteinspireinstill

The $5 White Out Shirt order is due in the HS office first thing tomorrow morning. The shirts will have a black G on the front and sponsor will be printed on the back. Again - tomorrow morning is the last chance to place orders. The White Out Game is 2/11/23 vs Eastern.

Our HS Boys Basketball Play CNE @ HOME tonight- 6:00 & 7:30. Our Undefeated Jr Hi Boys Play @ Williamsburg- 4:30 & 5:30 The Girls Jr Hi Team plays @ HOME vs Williamsburg- 4:30 & 5:30. The Academic Team faces Bethel @ Home Rm 178- 4:00 Bowling at Community Lanes 4:30.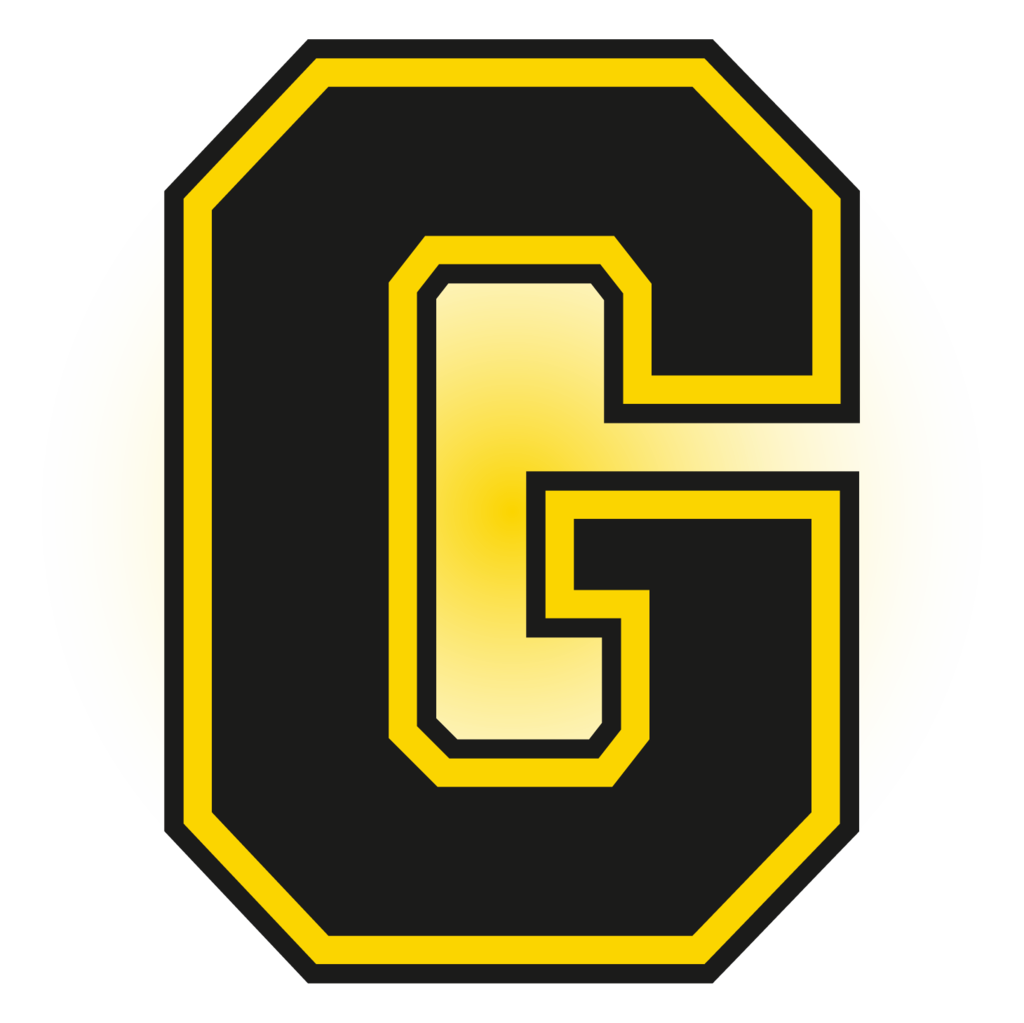 Our Lady G-Men won their 4th SBAAC Game in a row last night as they beat Blanchester 58-49. It was also Girls Youth Basketball League Night. Thanks to all the coaches and players for coming out. The Boys Youth League Night will be NEXT Tuesday 1/24 as our Boys take on Bethel.

White Out Night T-Shirts & a Chance to Win $10,000 on Feb 11. Thanks to Paul Hall & Assoc. the G-Town Community can participate in a White-Out for the Eastern Boys Game on Sat Feb. 11. T-Shirts ONLY $5.00 Order by this Thurs at the HS Office- ALL Proceeds go to the Athletic Fund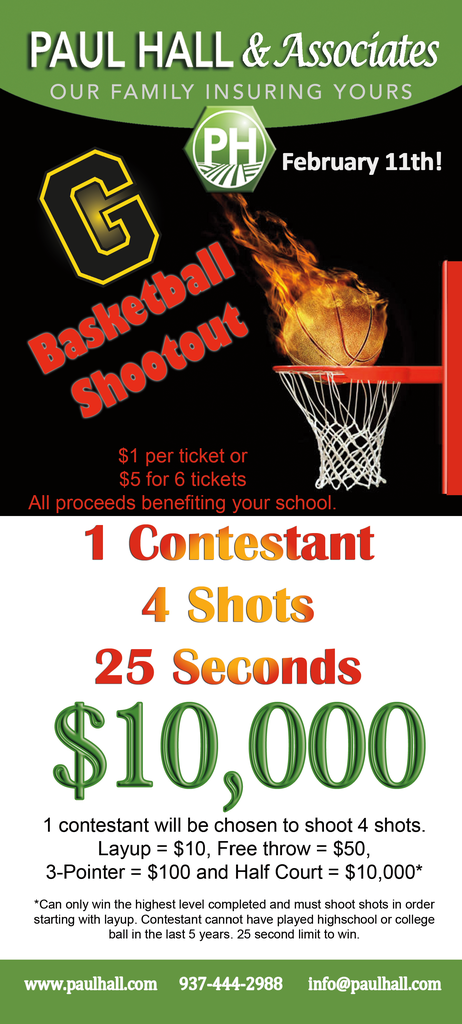 There will be a HS girls softball meeting on Wednesday 1/18 at 6pm in the elementary school cafeteria. Any girls interested in playing for (a non-school) team the JRH meeting will be following the HS meeting at 645p in the elementary cafeteria.

If you have the opportunity, come out and see our Junior High Basketball Teams and the Cheerleaders in action. You will enjoy some great basketball. Our Girls team are 8th Grade (7-4) 7th Grade (8-3) Both of our Boys teams are 11-0! They play this week on Tuesday and Wednesday.

This Week in Georgetown: Featuring some of the youth in our Community. Girls Youth League Basketball Recognized on Monday Night during JV/Varsity Girls Game. Cheer Clinic Performance at halftime of JV Boys Game on 1/20/23. Come out and support all the Youth in our Community,

Our Varsity Girls and Boys teams travel to North Adams this evening to play at 6:45 (Girls) and 8:30 (Boys) The Cost for Tickets are $8.00 for ALL AGES, This event provides money for scholarships and the fee is good for all 7 games.

If, for some reason, you can't make it to the homecoming game tonight with the G-men facing the Wildcats of Williamsburg, the game will be on 99.5 The Edge. We hope to see you at the high school gym at 5:45 for the JV or 7:30 for the varsity but if you can't make it tune in.

Join us for Homecoming Tonight as The G-Men face a tough Williamsburg Team. The JV game starts at 5:45. Homecoming Festivities start between the JV and Varsity Game (Approx.. 7:00pm) and Varsity Game follows around 7:30. The Dance Follows the Game from 9:00-Midnight.

Another big win tonight- as the Lady G- Men won their 3rd league game in a row! Congrats to Coach Wells, Oliver and Gardner and the ladies for another tough- defensive win! Their next game is at N Adams on Saturday night.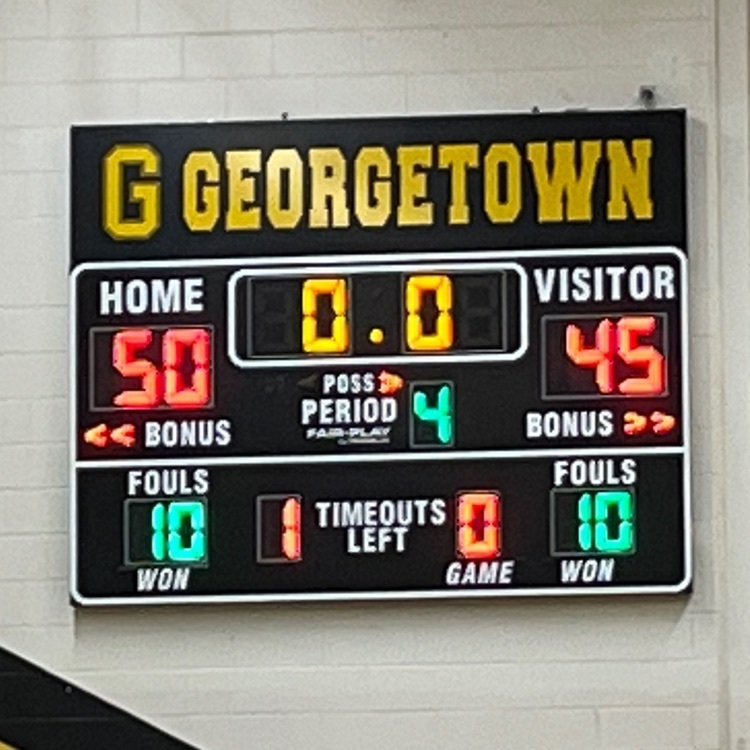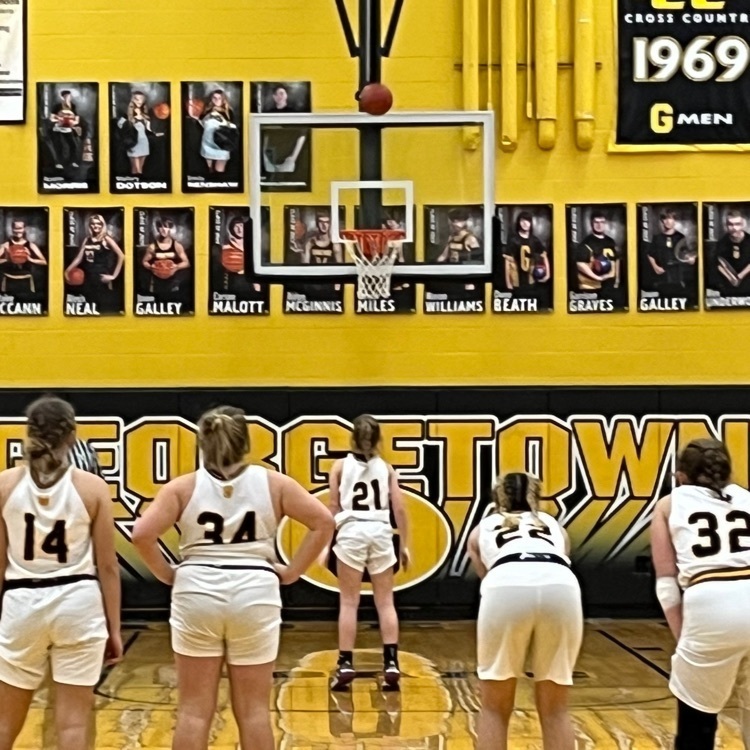 Girls JV/Varsity Basketball Game tonight at HOME. They will face CNE- JV-6:00 and V-7:30. The Pep Band will also be bringing the Hype. Come out and support our Lady G-Men and enjoy our Pep Band!

Congrats to Jacob Faught from our Cross Country team who was recognized as a 1st Team All Star for the 22 Fall Season. He joins the long list of Fall All Stars from Georgetown recognized by The Cincinnati Enquirer.

Congrats to our Student Athletes recognized in the Cincinnati Enquirer for Fall Sports All-Stars. Volleyball: Chloe Kuhn, Emily Renshaw, Soccer: Jaxson Marks, Carson Miles, Gideon Klump, Jayson Marks, Austin Miles, Alex Underwood, G Soccer: Erin Stansberry, CC: Aaron Riddle

The Gtown Bowling & Academic Teams have matches today at 4:00. Bowling vs Felicity at Community Lanes. The Academic Team vs New Richmond in Rm. 178. The Undefeated 7/8th Boys B-ball are on the road @ Blanchester. The 7/8th Girls are (H) vs Blanchester 4:30/5:30.

This Sat Night our Varsity Boys & Girls Basketball teams play @ North Adams in The Coach Young Classic. The Admission is $8.00 at the Door for ALL AGES. This event provides money for scholarships and the fee is good for all 7 games. Girls will play at 6:45- Boys follow at 8:30
The G-Men traveled to Felicity for a SBAAC matchup. JV pulled out a close win in overtime! Varsity maintained control the entire game and was also able to bring home a BIG win. Next game is homecoming vs Williamsburg this Friday! JV starts at 5:45pm. Way to go boys!